Ivory Coast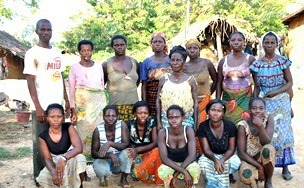 Ivory Coast or Côte d'Ivoire , officially the Republic of Côte d'Ivoire is a country in West Africa. Ivory Coast's de jure capital is Yamoussoukro and the biggest city is the port city of Abidjan.
Prior to its colonization by Europeans, Ivory Coast was home to several states, including Gyaaman, the Kong Empire, and Baoulé. There were two Anyi kingdoms, Indénié and Sanwi, which attempted to retain their separate identity through the French colonial period and after independence.[8] Ivory Coast became a protectorate of France in 1843–44 and in 1893 it became a French colony as part of the European scramble for Africa. Ivory Coast became independent in 1960.
Through the production of coffee and cocoa, the country was an economic powerhouse during the 1960s and 1970s in West Africa. Ivory Coast went through an economic crisis in the 1980s, contributing to a period of political and social turmoil. The 21st-century Ivoirian economy is largely market-based and relies heavily on agriculture, with smallholder cash-crop production being dominant.
Ivory Coast is a country of western sub-Saharan Africa. It borders Liberia and Guinea in the west, Mali and Burkina Faso in the north, Ghana in the east, and the Gulf of Guinea (Atlantic Ocean) in the south
A large part of the adult population, in particular women, are illiterate. Many children between 6 and 10 years are not enrolled in school. The majority of students in secondary education are male.
Our work:
Empowering Groups
Gender
Small Bussines Plans
Cooperative
Farmer Groups
Handcraft Manufacture
Development small scale producers
Innovative Practices
Small scale production business
Cooperativism